You may be all wondering by now, where the hell am I and why the heck am I wearing such thick clothing during summer? Well apparently, I'm just here in the Philippines. When you say "Philippine Weather" during the summer time, us Filipinos would normally describe it that it's scorching hot! But yesterday was different. It rained really hard in our area. So I managed to use this hand-me-down dress from my mom that I've been itching to wear but I didn't got a chance. Diba ang taray ng lola mo, naka-boots pa. Haha.
Anyway, the rain isn't the only reason why I had to wear an outfit as weather-and-country-inappropriate as this. The other reason is that I have a fever and I wasn't feeling well at all. Yup, that is why I look so haggard in the pictures. I wore thick clothing and layers to prevent myself from freezing since we had a scheduled food tasting dinner at the place where my 18th birthday will be held.
Third reason would have to be because I've been so addicted to
Chriselle Lim's Youtube videos
lately and she inspired me to dress up today! If you don't know her, you are definitely missing out! She's my style icon. She makes everything possible when it comes to clothing pieces, how to mix and match it, and so much more. She's not from the Philippines so maybe that is also why I wore this kind of outfit. LOL.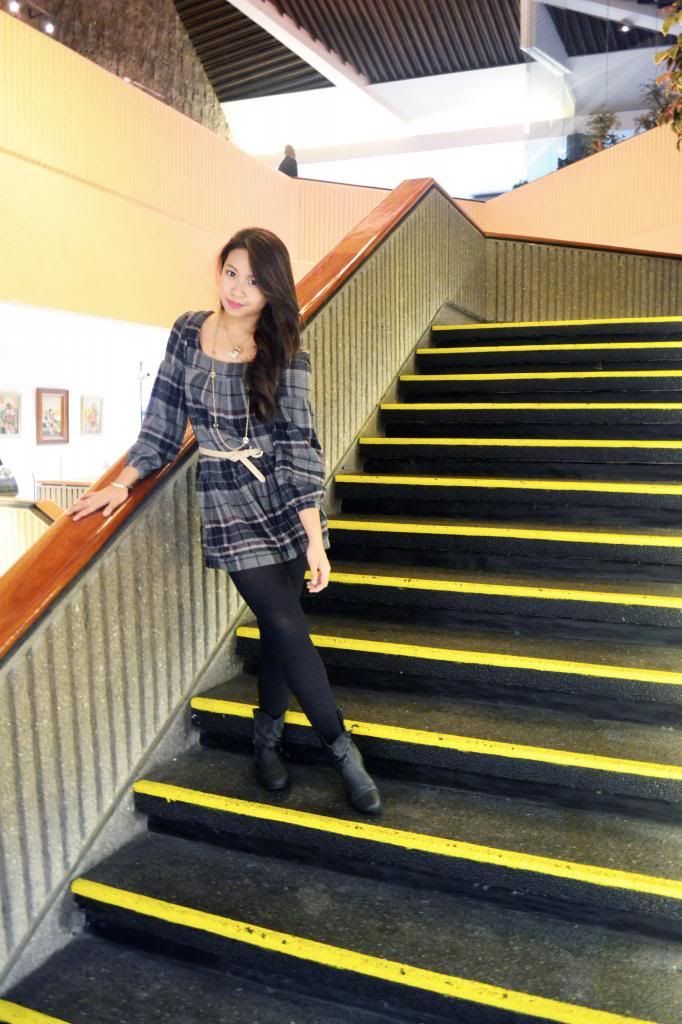 As you've noticed, I wore a belt around my waist. That is because the dress is too big on me. With the belt I added, it looked like it fits me perfectly and it emphasizes my curves. Invest on skinny belts because they can turn you from looking like a human bag to a sexy beast! Haha. Please excuse my weird metaphors but I hope you get what I'm saying. :P
Another one are my legs and boots. My legs look longer because my tights and boots have the same color. Pairing your pants with the same color of your shoes can make it look like you had your knees done. (Just kidding, I just heard that line in the movie White Chicks :P)
Another one is... (okay last na talaga 'to, promise) my top and tights. I wore this loose dress with tights. As Chriselle Lim said, when you wear loose tops, pair it with skinny bottoms. When you wear tight tops, it's best to pair it with loose bottoms! And plus, when a dress is too short on you, tights are the best way to make it look more wearable.
Okay, I sound like I am a genius at Fashion now but honestly I just learned all these from Chriselle Lim. (Okay, now I sound like a fangirl...) I'm way too hyper now, I just can't stop typing!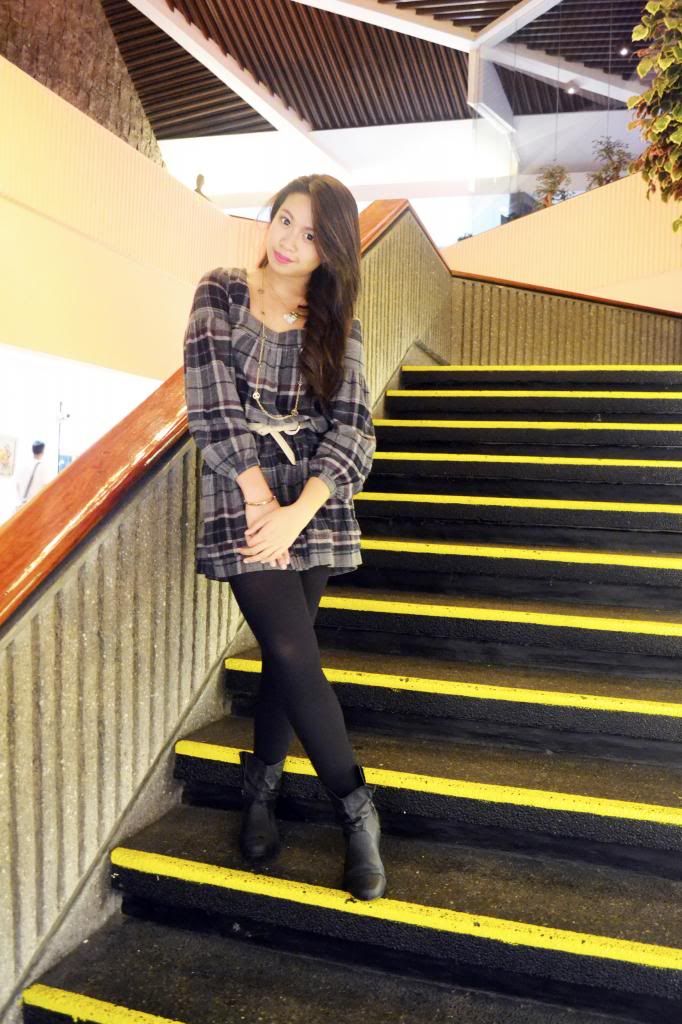 Sorry if this post is too long, I kinda get hyper during midnight... I will stop now. Haha. Bye! :D

Dress: Mango | Necklace: Chanel (Borrowed from my mom) | Bracelet: Cartier | Tights: SM Department Store | Belt: Gift from my friend, Patricia Lau :) | Boots: S&H
xx, Iyah