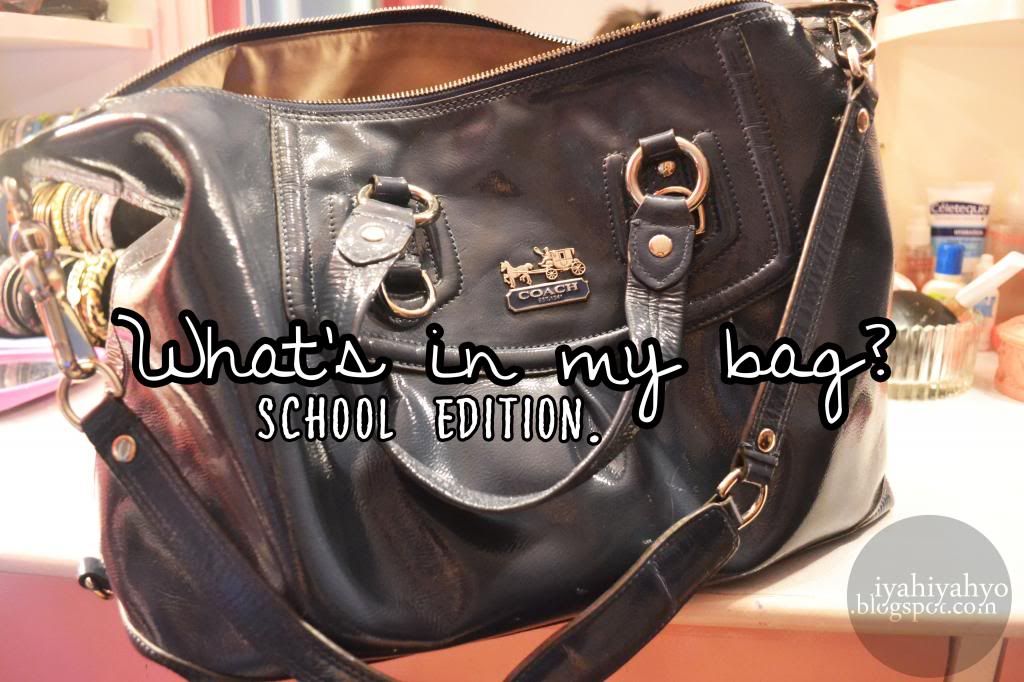 WARNING: Photo heavy post
Hello everyone! Hope you're all having a great weekend so far! Here I am with a new blog post. This time's different because it's a "what's in my bag" post. I figured that it would be a nice blog to write about since I've always loved reading and looking at posts like these. And since I'm still in school, I decided to do a school edition because these are the items I bring to me there everyday as of the moment. :)
So, here it goes! Hope you all enjoy <3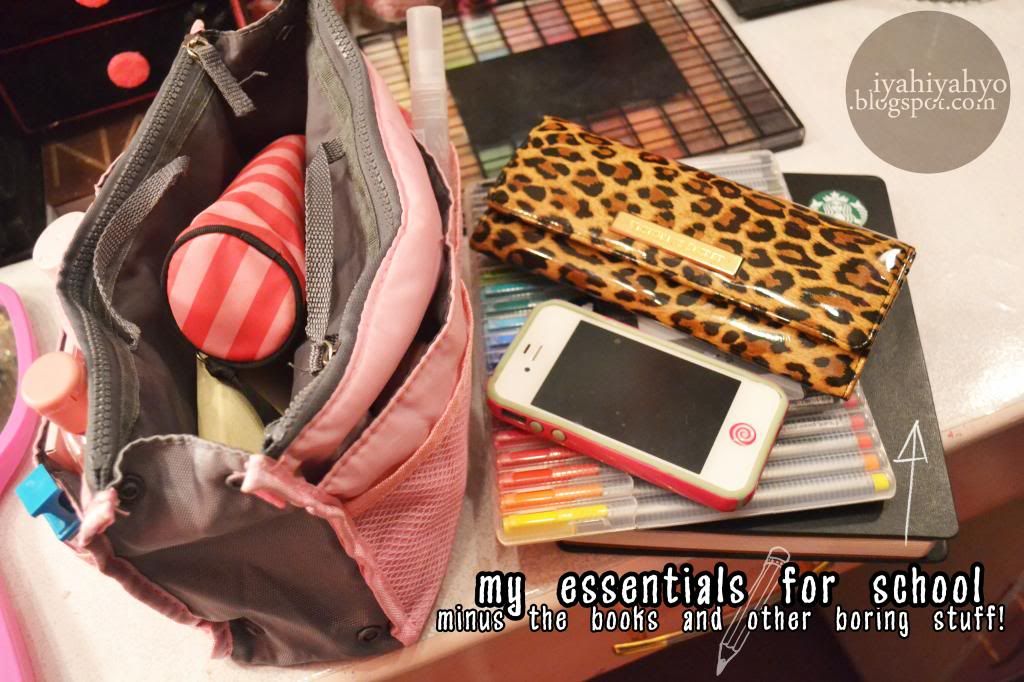 Here are my essentials for school! Of course I still bring my notebook and books and other boring school stuff but I won't include it here because you know... it's boring haha jk
I bought this bag organizer at Dapitan for only 100php. This is very useful and I can put a gazillion stuff in here. The following four photos are the things inside this organizer.
1. Johnson's Baby Powder - This comes in handy during PE class when I feel too sticky or maybe even a random day when it's too hot.
2. Johnson's Baby Cologne - I love signature perfumes, but nothing compares to Johnson's Baby Cologne for me. My favorite is the Powder Mist which is the one I'm currently using.
3. Clean & Clear oil control film - I have an oily skin type and this baby comes in handy everyday. I hate that greasy feeling so this is a must-have for me.
4. Toothbrush - Because you will never know what type of food you eat and how it will make your breath smell! Haha. I actually forgot to put my mini toothpaste too, sorry ;)
5. Alcohol - This is important not only for school. Usually my hands get dirty from touching my books, chairs, tables and other random things.
6. Dental Floss - Don't you just hate having food stuck in your mouth? I do. So this is my one of my essentials. I always use it every after meal so I can smile comfortably during the day. Hihi.
I've always loved to apply a lip color for school because I look more awake and I don't look pale and sick. So I always carry with me some lip products.
1. Revlon Just Bitten Kissable Balm Stain - This is my holy grail lip stain! Will do a full review on this soon to tell you how great it is. I use it everyday!
2. EOS Lipbalm in Mint something (I forgot lol sorry) - I love this too. And yes, I will be creating a review on this one as well.
3. Ever Bilena Matte Lipstick in Off Beat Pink - I just carry this with me when I'm in the mood to try a different color.
4. Maybelline Baby Lips in Mint something again (I forgot again hehe sorry)
5. Revlon Lip Butter in Lollipop - Same reason I have with my EB Lipstick :)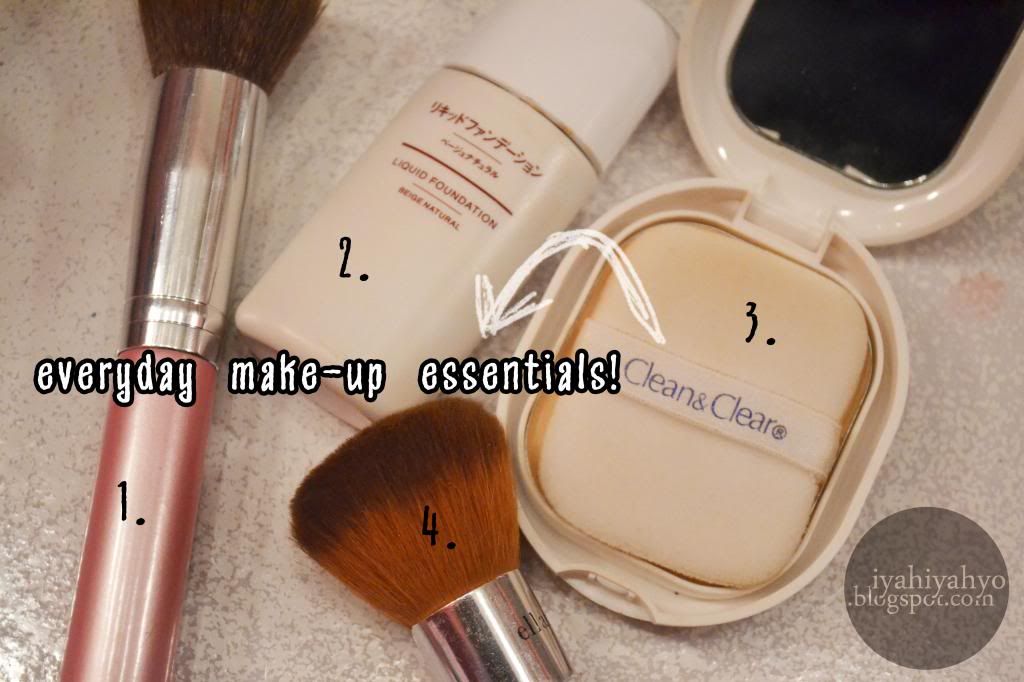 1. Beauty Cosmetics Flat Top Brush - I used this to apply my powder
2. Muji Liquid Foundation - This is what I'm currently using. It has a matte finish so I use it alone.
3. Clean & Clear Powder - I use this because I don't really want to put heavy make up on a daily basis. I only use this for touch-ups.
4. Ellana Kabuki Brush - For my powder also :)
Of course, what's a school bag without things for school, right? So here are my essentials:
1. Pocket Bible - I always carry this because our professor in Biblical Studies requires use to bring one every meeting. So I always keep this in my bag.
2. Scientific Calculator - For my Statistics class
3. Stapler - For stapling hand-outs in my notebook
4. Ballpen - Enough said. Haha! :)
5. Scotch Tape - Same reason I have with the stapler :) and this is for sticking random memos and pictures on my planner!
Would you believe that all of the stuff I mentioned earlier all fit in my bag organizer? :D I swear, that thing is a life-saver!
So, the stuff I will show you now are the contents of the bag itself :)
Every year, I always get myself a planner. I turn it into a diary. I put all the random things I want there, the highlights of my day, pictures and more. I love how I can reminisce good memories whenever I re-read my old planners. And since I want my planner to be as colorful as possible, I always carry my Staedtler set with it.
I am very thankful for my friend,
Eunice Somintac
for giving this Starbuck's Planner to me! I am so happy! She is such a sweet girl. Click the link on her name to see her channel. She's a Youtube Vlogger! :)
If you're reading this Eunice, thank you sooo much! :D I use this planner everyday <3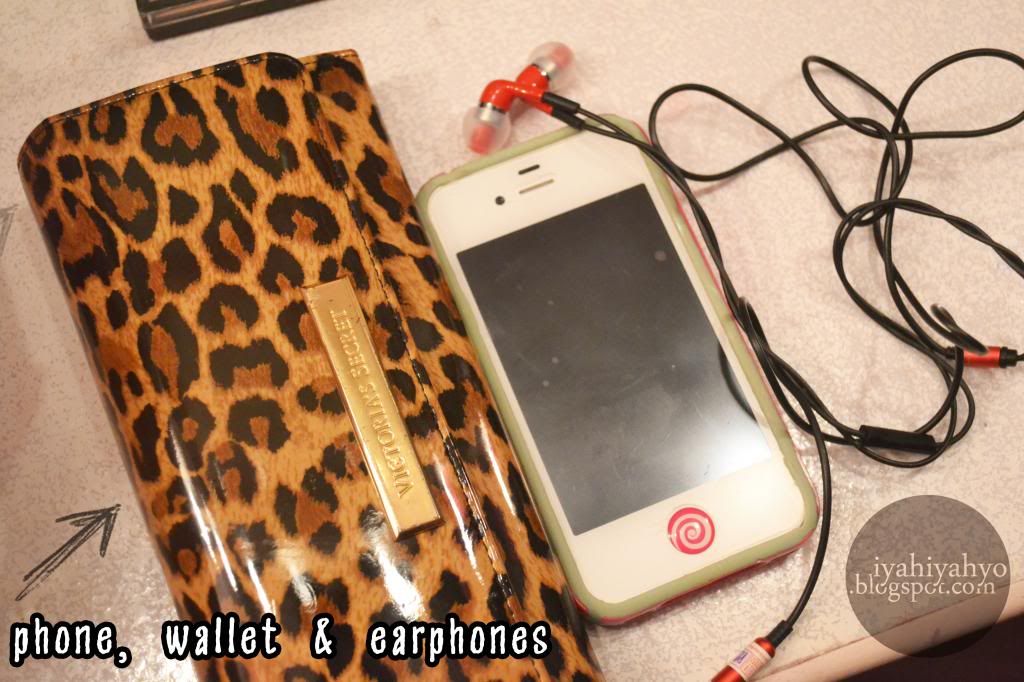 Of course, I can never leave the house without my phone, wallet, and earphones. Whether I'm going to school or at the mall, I will ALWAYS have this with me. Because you know, it's important. Haha! As for the earphones, I can't live without it. I need it in my life. I listen to songs everyday and gives me really good vibes. I feel incomplete without it. :)
So, I guess that's it. :D
How about you, what's in your bag? :)
How do you like this new series of my blog? I appreciate feedback! If I would get positive feedbacks I will be doing more editions (clutch essentials, what to put in your bag for vacation and the like)
Thank you for reading! :)